Veteran's Day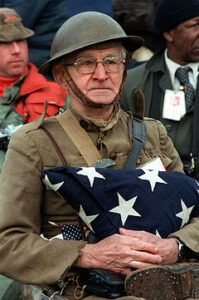 …formerly known as Armistice Day which commemorated the end of World War I, the 'war to end all wars'. In 1954 the name of the day was changed to 'Veterans Day' to honor the service of all US military veterans.
On this day perhaps we should consider how we might best honor the those who have served or are serving in our armed forces.
Recently the First Things website ran a series of stories on the Synod on the Family held in Rome. One of these contained an interview with a US military chaplain that contained the following:
Training to assure the best physical condition is constant; but exercises to meet both regular responsibilities and extraordinary situations are also part of the experience of Catholics in the military. No one in uniform expects to hear that a goal is merely an ideal, or that an expectation does not have to be met. The Church canonizes saints not for their benefit, but for ours. The saints are examples.