Adeodatus Education Conference …A Promising Future for Catholic Schools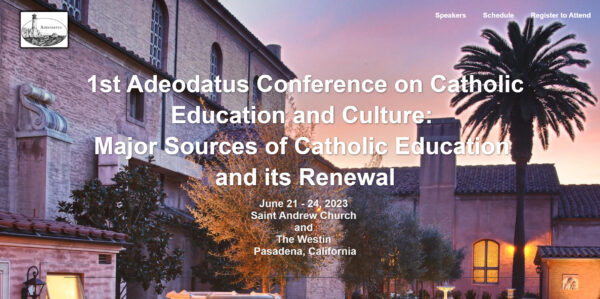 This semester, I am teaching the History, Philosophy, and Mission of the Catholic School to diocesan principals as well as teachers working towards administration through the Institute for Catholic School Leadership at St. Paul Seminary | University of St. Thomas (MN).
Over the course of 14 weeks, we are working through The Crisis of Western Education by Christopher Dawson; The Heart of Culture by Michael Naughton & the Habinger Institute for Catholic Leadership; Renewing Catholic Schools (from the Institute for Catholic Liberal Education, edited by R. Jared Staudt); Renewing the Mind, an excellent anthology of Catholic educational texts edited by Ryan Topping; as well as selections from Sacred Scripture, the Code of Canon Law, the Plenary Councils of Baltimore, Newman, Jean Leclercq, John Paul II, Benedict XVI, et al.
For the historical component, in addition to the masterful overview of educational history in The Heart of Culture, we are reading through the very rich and beautifully written, Christian Schools & Scholars by Augusta Theodosia Drane (1823-1894). Augusta's remarkable path into religious life – Sister (later Mother) Francis Raphael was her religious name – began in earnest around age 15 through the sermons of Vicar George May Coleridge, nephew of the poet, and Coleridge's successor, a follower of the Oxford movement.
She reached a crisis point of great interior struggle in her mid-20s, centered on a deeply felt need for the sacrament of Confession. She founded a school during this time, and began writing. One of her short writings was quoted by Newman in his "Difficulties of Anglicanism" lectures in London, and later anonymous writings were sometimes mistaken for Newman's. Her crisis was resolved by entering the Catholic Church in 1850, five years after Newman. She went on to write  this extremely engaging history of Catholic education among a dozen other books – even while serving as prioress of the Dominican Stone Convent in Staffordshire.
In bringing the rich and varied history and philosophy of Catholic education to bear on the mission of Catholic schools today, I have been extremely impressed with my students' strong desire for classical education in their schools. 100% of my students are aware of and are working to implement classical principals, and I know this has been true for earlier cohorts of students as well (one earlier student in the ICSL program is an undergraduate friend who now heads a Chesterton Academy in MN).
This course and program have brought home to me yet again how much demand there is for classical education at all levels, and how much work we need to do right now to meet that need. With the Adeodatus Conference on Catholic Education & Culture, we are working to support this accelerating renewal movement, and we hope you will join us in Pasadena or by livestream this June 21-24 (see www.adeodatus.com) and become part of this vibrant, vital movement!
All educators (in any capacity and/or setting from homeschool to school teacher, administrator, pastor, etc.) should use the code Educator to register for half-price. Non-educator friends of The Cornerstone Forum are encouraged to apply the code Friend for a 35% fee reduction.