Bells & Whistles and Our Annual Plea for Support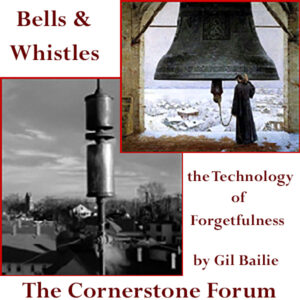 The 'Fall Appeal', which you may read by following the link,  is our annual foray into fundraising and was once described to me as a "begging letter". I prefer the phrase, "mendicant missive" myself. Alliteration aside, it is our primary source for the means to continue this work. Many of our friends soon will be receiving our Fall Appeal letter in the mail and by e-mail.
It is fortuitous that today's lectionary reading (3 John vss 5-8) contains the following:
Please help them in a way worthy of God to continue their journey. For they have set out for the sake of the Name and are accepting nothing from the pagans. Therefore, we ought to support such persons, so that we may be co-workers in the truth.
Co-Workers Of The Truth is the title of a 1992 book of daily reflections by then-Cardinal Joseph Ratzinger, now Pope Emeritus Benedict XVI. Gil Bailie presented me with a copy of the book in 2005 when I had been working for the Cornerstone Forum only a few years. My job, then as now, was to enable Mr. Bailie to focus his gifts on his writing and speaking responsibilities by keeping the multiple spinning plates which comprise the facets of our work from crashing to the ground. I encourage you to read our Fall Appeal letter and to become co-workers with us in our efforts by looking kindly on our plea for support and making a donation HERE on our secure website or by mailing a check to us at the address below.
We are offering a printed booklet & digital PDF copies as well as the audio recording (CD & MP3) of Gil Bailie's recent presentation "Bells & Whistles: The Technology of Forgetfulness"  to those who respond to our mendicant missive. Please see the details at the end of the letter.  You may listen to an excerpt from the presentation below:
Thank you for your interest in our work.
Randy Coleman-Riese
executive director
The Cornerstone Forum – PO Box 269 – Sonoma, CA 95476