The Great Thanksgiving of the Eucharist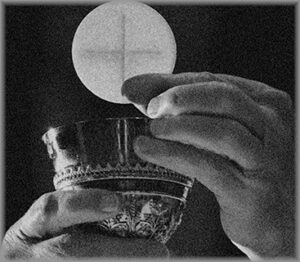 Every year (except perhaps during a pandemic) on Thanksgiving Day we gather with family and friends to enjoy a festive meal and count our blessings. Often on such occasions, we are asked, "For what are you thankful?" Frequently our thoughts turn to family, health, work, material sufficiency, safety or security. This year amid economic uncertainty around the world, scenes of war and devastation in Ukraine, starvation in Somalia, and the seemingly unending mass shootings here at home, we may feel a more urgent sense of the gratitude we express.
Of course, we give thanks to God, the source of all our blessings. Especially we recall that the English word Eucharist is derived from the Greek verb Ευχαριστώ 'to give thanks'. How awesome and mysterious it is that in this divine thank you gift of the Eucharist God gives Himself to us – an outpouring of grace for which not one of us is worthy.
---
This year the Cornerstone Forum has been blessed with the continued prayers and support of our many friends. We give thanks to God for each person who finds our efforts worthwhile. The months ahead will bring challenges and changes with Randy Coleman-Riese stepping back into a supporting role as Rico McCahon and Alex Lessard take over the helm in January; and Gil Baile's book, The Apocalypse of the Sovereign Self is published in the Spring/Summer.