Our Annual Fall Appeal – 2023
Resolving to bring a whole-hearted faith to a troubled world
A year ago, our Fall Appeal ended with the sentence,
"We are all facing instability in the world around us, but it is faith in the certainty of God's provision for our good that enables us to take confident steps to offer a whole-hearted faith to a half-hearted world."
The response we received from our faithful friends and generous donors enabled us, this year, to complete the publication of Gil Bailie's latest book, The Apocalypse of the Sovereign Self, as well as pursue initiatives in Catholic Classical education such as the Adeodatus conference. Over the past months our executive co-directors, Rico McCahon and Alex Lessard, have acclimated to their new roles while Randy Coleman-Riese (now retired) assists from the sidelines and Gil Bailie continues to toil away at the writing desk.
We are blessed with donors who have supported our efforts in times of stress and uncertainty as well as in more serene circumstances. In the months after the 9/11 terrorist attacks Gil Bailie spoke to a group of potential donors and made comments (quoting G.K. Chesterton) which bear repeating today: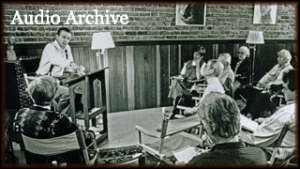 Today, it is certainly the case that our world has become even more unstable and ominously so. Yet, the confidence we claim in our work here at The Cornerstone Forum, as well as in our personal lives and communities is born of the resolve to face the challenges these times present with the resources made available through God's grace in the Passion and Cross of Jesus Christ. If you are able, please help us in our efforts as we continue to labor bringing a whole-hearted faith to a half-hearted world.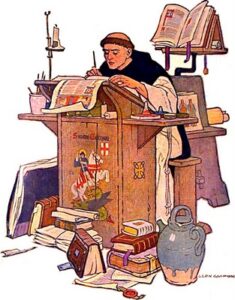 The work the Cornerstone Forum has performed for the last few decades in bringing the anthropological work of René Girard to the attention of a wider audience can no longer be separated from the theological task which is its natural corollary. For, as Girard came more and more to recognize, his work and his faith could not be separated. Not that his anthropological insights were artificially manipulated to conform to his faith, far from it. Nonetheless, in retrospect it became clear to Girard and to his attentive readers that it was his Christian faith that made it possible for him to recognize the anthropological pattern in human affairs to which he alerted us all. Over the years, that faith became a more prominent feature of his writing. So much so that Girard's contribution is now widely and correctly seen to both his admirers and detractors as deeply Christian. Bishop Robert Barron has famously opined that the day might come when Girard would be regarded as one of the fathers of the Church.
This nexus between anthropological insights and the Christian lens which gave these insights their vivid salience continues to be the most fruitful path, one that our little team at the Cornerstone Forum continues to follow. In that vein, as part of our Fall Appeal to our community of supporters, I want to share one small example of how thee religious foundation of Western civilization continues to provide the clearest lens though which to recognize our present predicament.
The title of the short first chapter of The Apocalypse of the Sovereign Self: Recovering the Christian Mystery of Personhood was: "The Triumph of the Will and the Twilight of Resolve." Obviously and rather ominously, the first half of that title echoes the title of Leni Riefenstahl's celebration of the 1934 Nazi Party congress and rally in Nuremberg in her film, "Triumph of the Will." However, the triumph of the will that was of concern to me in giving that title a chapter in my book was much more mundane and comparatively innocuous. What I had in mind was that Western societies have gradually canonized individual freedom of the will, untethered from the constraints of biological facts, natural law reasoning, and Judeo-Christian anthropology. When personal choice becomes the moral touchstone, replacing the more venerable understanding of human freedom guided by reason and faith, the result is despair masquerading as liberation, a pretense that is increasingly unconvincing.
What I would ask our Cornerstone Forum friends to consider, however, has to do with a further reflection on the difference between will and resolve. Just as it is a mistake to assume that the self and the person are synonyms, it is likewise a mistake to overlook the important difference between will and resolve. Not only are they not synonyms; in many respects they are antithetical. Will has come to mean the force of will, will-power, the determined effort to make reality–whether physical or metaphysical–conform to one's personal preferences–a determination animated in part by an antipathy for those who refuse to confer legitimacy on that choice, and who are reflexively regarded with scorn by those flexing their will and all-too-willing to impose it on others. Resolve, on the other hand, suggests the determination to face reality, its daunting challenges and complexities notwithstanding. For a Christian and, to some extent those secularists imbued with a Christian ethos, such trials and tribulations are more than the inevitable difficulties life. Rather they are crosses that one is asked to carry in this vale of tears. To understand our difficulties in such light does not make them less onerous or unwelcomed, but it ennobles the one who has been asked to shoulder them, availing him of spiritual resources from the Christian treasure-trove which will sustain in time of trial.
As I told a recent interviewer, Christianity has given the world two of the most important concepts imaginable: grace and cross. Arguably, these two words contain the central mystery of our faith. The richness of these two quintessentially Christian words is further highlighted when we begin to sense their inner relationship. What a non-Christian might regard as good fortune and hardship, a Christian can–if properly catechized–experience as grace and that portion of suffering that allows us to make up for what is lacking in the suffering of Christ (Colossians 1:24), and for which grace is available. To be grateful for both the graces received and the crosses we are asked to bear is to enter into the mystery of Christian faith. To enter that mystery with as much serenity as we can muster under the circumstances is to perform one's role in the drama of world reclamation that Christ came to set in motion.
Above and beyond our individual hardships, we are no longer immune, as our forefathers were, against distressing events in the zeitgeist (the spirit of the age). My allusion to the Nietzschean concept of the will by the German Reich has recently been highlighted by events, not only in the Middle East but, alas, across the northern hemisphere and beyond. In 1941, the world was all too slowly waking up to the ravages of antisemitism in Europe. Among those who reacted to this was the Catholic theologian Henri de Lubac:
Many Christians, too little aware of their faith and too attracted by a host of ideas and sentiments that are little compatible with it, or simply too ignorant of the "malice of the century" and too little on guard against its artifices, will be in danger of taking this coarse bait. Instead of immediately provoking a salutary reaction, the attack thus risks weakening from the beginning some of those at whom it is aiming in order then better to corrupt them. This is what happened more than once in the past. This is what has been happening again for some time. [Theology in History, p. 467]
We are armed today with that great cloud of witnesses, among whom Girard and de Lubac can be counted. Our work at the Cornerstone Forum will continue to be informed by these are predecessors in the faith, even as we begin to focus more on the education of our young. In the weeks ahead, we will be rolling out some of the ways in which the Cornerstone Forum will be trying to make its distinctive contribution to the spiritual and cultural challenges we now face. For the time being, we simply want to thank our friends and supporters and ask for your prayers and for any suggestions you might have regarding how our work might be made more fruitful.
Sincerely yours,